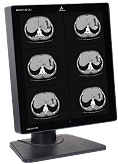 ARMSTEL AMEDICOM™ 20.1" 2MP Grayscale Medical LCD Display - MDA2120-2Li
ARMSTEL Amedicom™ MDA2120-2Li terminal device is a 20.1" 4:3 grayscale high-end medical diagnostic LCD monitor for medical professionals. It is NEMA DICOM PS 3.14-2009 specification compliant end user monitoring. It is a new member of ARMSTEL Amedicom™ series LCD monitor family that has a maximum luminance of 700 cd/m2 with IPS panel solutions. By applying ARMSTEL's invention, a world leading breakthrough technology, ARMSTEL ARMSATT®, to realize 11-bit grayscale display (2048 grayscale levels) on a regular commercial LCD 8-bit color monitor, ARMSTEL can provide medical professional the most cost-effective solution on the 2MP medical diagnostic LCD monitor selections. With built-in front sensor, ambient light sensor, and backlight control, MDA2120-2Li provides an automatic DICOM GSDF adjustment to achieve the highest quality of image display for medical diagnosis. In addition, to provide customer the most effective display functionality, ARMSETL MDA2120-2Li provides a single CAL button push calibration, to achieve any time DICOM GSDF calibration and backlight adjustment/control.
As of additional function, MDA2120-2Li also allows DICOM GSDF calibration by using ARMSTEL's Calispector/Simlux meter package.
Technical Specifications:


• ARMSTEL's Patented Medical Display Technology (ARMSATT)
• DICOM Calibration with 11-Bit Grayscale Accuracy (2048 Grayscale Levels)
• Rotates 90 Degrees for Landscape/Portrait Viewing
• 360 Degree Swivel Base
• Best IPS AMD TFT 2 MP (1600x1200)
• 500-700 cd/m2 Brightness and High Contrast
• 2 Mega Pixel Resolution
• 11-bit LUT Calibration
• Single CAL button push to start auto-calibration and backlight adjustment/control
• DICOM GSDF Support
• User Friendly DICOM Inspection and Calibration with CalispectorTM and SimluxTM Luminance Meter via USB Interface on the Display
• LCD Panel : IPS Color Monitor
• Display Color: Monochrome
• TYPE: TFT Active Matrix
• Active Display Area: 408.0×306.0 mm
• Pixel Pitch(HxV) : 0.255x0.255 mm
• Interface: VGA, DVI, USB
• Active Screen Size : 20.1" Diagonal
• Native Resolution : 1600x1200
• Brightness Max. : 700 cd/m2
• Brightness Calibrated: 530 cd/m2
• Contrast Ratio: 1,000:1
• Viewing Angle(H,V) (Typical) : 170ºH, 170ºV
• Backlight: CCFL
• Input Type: External
• Power Supply: AC 100-240 V/60/50 Hz; DC 12V/6.67A
• Power Consumption: ≤ 54 W
• Working Temperature: 5ºC ~ 35ºC
• Storage Temperature: -20ºC~ 60ºC
• Humidity: 15 %-85 %
• Power Saving: EPA, VESA
• Certificates: CCC, FCC, CE.