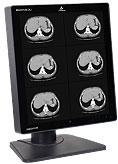 ARMSTEL AMEDICOM™ 21.3"  3MP Grayscale Medical LCD Display - MDA2120-3Li
ARMSTEL Amedicom™ MDA2120-3Li terminal device is a 21.3" 4:3 grayscale high-end medical diagnostic LCD monitor for medical professionals. It is NEMA DICOM PS 3.14-2009 specification compliant end user monitoring. It is a new member of ARMSTEL Amedicom™ series LCD monitor family that has a maximum luminance of 800 cd/m2 with IPS panel solutions. With built-in front sensor, ambient light sensor, and backlight control, MDA2120-3Li provides an automatic DICOM GSDF adjustment to achieve the highest quality of image display for medical diagnosis. Each monitor has been precisely calibrated to comply with DICOM Part 14 at factory. With built-in brightness stabilization circuit, front sensor and ambient light sensor, stable brightness and persistent calibration can be guaranteed. The display can support both landscape and portrait mode. The anti-reflection coated protective screen can prevent display from damage under hard using conditions, make the clean and disinfect easier. It has the capacity of setting 5 DICOM characteristic functions based on different levels of the brightness of the screen. It also provides user the option to select 3 gamma curves. Practitioners can select different display mode via comprehensive OSD menu for DSA, DSI, CT, or MRI presentations.
Technical Specifications:

• ARMSTEL's Patented Medical Display Technology (ARMSATT)
• DICOM Calibration with 11-Bit Grayscale Accuracy (2048 Grayscale Levels
• Rotates 90 Degrees for Landscape/Portrait Viewing
• 360 Degree Swivel Base
• Best IPS AMD TFT 3 MP (2048x1536)
• 400-800 cd/m2 Brightness and High Contrast
• 3 Mega Pixel Resolution
• 11-bit LUT Calibration
• DICOM GSDF Support
• LCD Panel : IPS Color Monitor
• Display Color: Monochrome
• TYPE: TFT Active Matrix
• Active Display Area: 423.9 mm (H) x 318.0 mm (V)
• Pixel Pitch(HxV) : 0.2115x0.255 mm
• Interface: DVI-D, TMDS (Dual), USB
• Active Screen Size : 21.3" Diagonal
• Native Resolution : 2048x1536
• Brightness Max. : 900-1,000 cd/m2
• Brightness Calibrated: 400, 450, 500, 550, 600 cd/m2
• Contrast Ratio (Typical): 700:1
• Viewing Angle: R/L 170° ,U/D 170° Typ.(CR > 10)
• Plug and Play: VESA DDC 2B
• Backlight: CCFL
• Input Type: Built-in
• Power Supply: AC 100-240 V; 60/50 Hz; DC12V/6.67A
• Power Consumption: ≤ 80 W
• Working Temperature: 5ºC ~ 35ºC
• Storage Temperature: -20ºC ~ 60ºC
• Humidity: 15 %-85 %
• Power Saving: EPA, VESA
• Certificates: CCC, FCC, CE.